BMC Reopens Building Sold to State to Provide Continuum of Care for Homeless COVID Patients
In record time, local and state collaboration stands up respite care for stable COVID-positive people without a safe place to quarantine.
Boston Medical Center CEO Kate Walsh has seen staff and volunteers perform countless incredible feats as the community rallies to face the COVID-19 surge. But nothing could have prepared her for the miraculous transformation of the vacant East Newton Pavilion, formerly a hospital building on the BMC campus, into an emergency respite center to help stop the virus from ravaging Boston's homeless community.
BMC had sold the building to the state in 2018 and plans were in motion for a $200 million project to transform it into a new facility for the Lemuel Shattuck Hospital. But when it became clear that the homeless population was going to be hit especially hard by the coronavirus, forces moved to return the building to BMC and convert it into a safe place for COVID-positive homeless people to recover. The discussions were challenging, says Kate Walsh, with Pine Street Inn, Boston Healthcare for the Homeless, as well as Governor Charlie Baker and Mayor Martin J. Walsh trying to figure out the best use of the asset in a surge capacity.
The building had been part of the hospital — it had ICUs in it — before BMC consolidated its campus. Perhaps it would be better used not for shelter-type beds, but for hospital beds for medsurg, ICU, or overflow from BMC and other Boston hospitals, some argued. But the decision was made as evidence mounted that the homeless population was being disproportionately impacted by the virus — which would have consequences for the larger Boston community.
"What we kept saying from the BMC side is, 'Look, if we don't find a way to better treat homeless patients and help them quarantine, we're gone. We'll be overwhelmed with the surge,'" says Kate Walsh. "It's almost a self-fulfilling prophecy."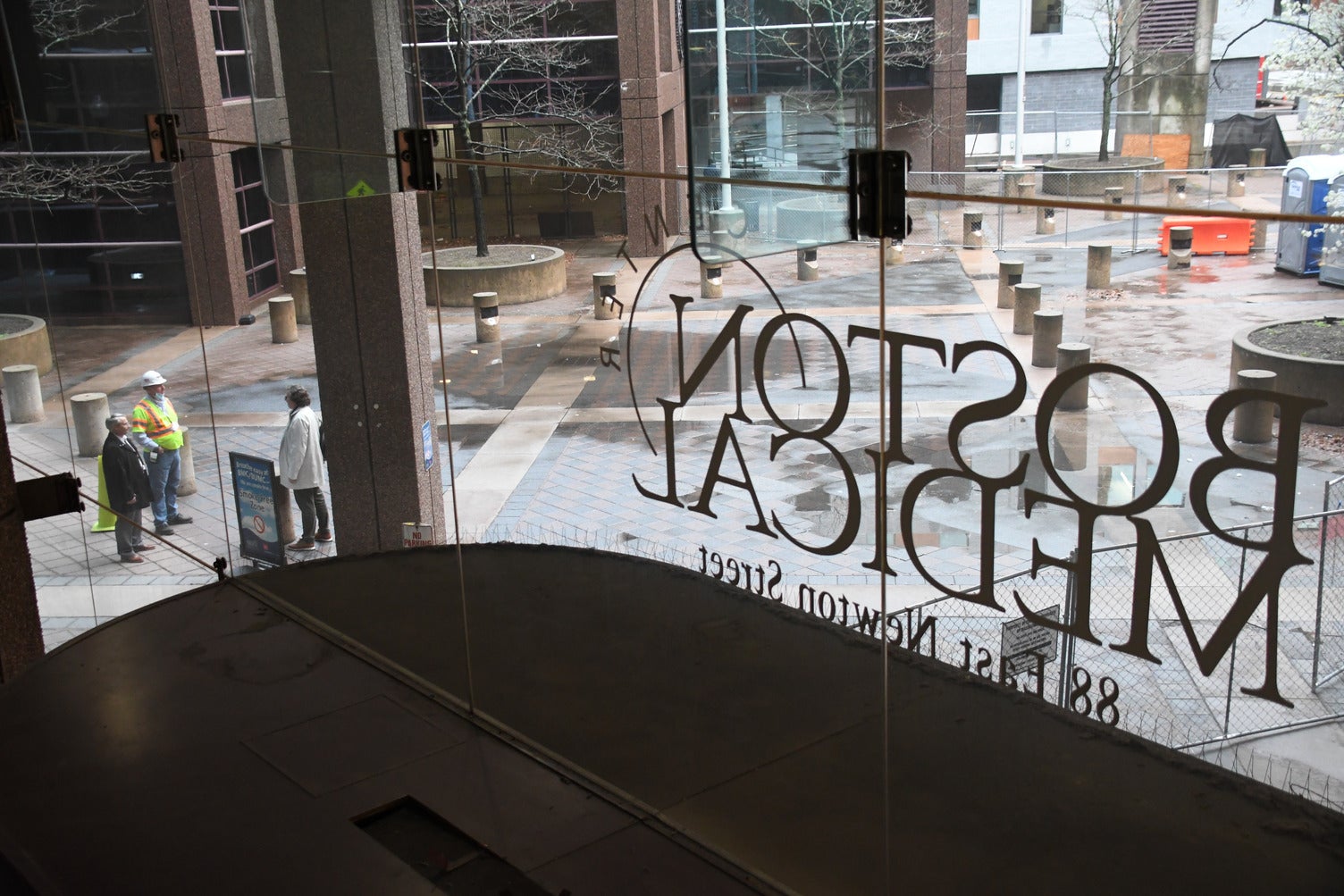 Now, the new respite facility at East Newton Pavilion will help fill a desperate need to spread out the homeless population and ease the burden on Pine Street Inn, St. Francis House, Boston Healthcare for the Homeless, and other local organizations, which have already taken measures to increase capacity and ability to quarantine, including designating space at the McInnis House and erecting tents as temporary respite care.
The city and state have quickly built a hospital for the homeless at the Boston Convention and Exhibition Center, while BMC and other medical centers have expanded ICU space and treatment beds. But Walsh says the Pavilion fills a gap by expanding recovery space.
"It can't be a mini hospital, because if people need to be in a hospital, they should be in a hospital," Walsh says. "What the East Newton Pavilion really provides is the kind of capabilities that shelters would provide if they had the space and the resources. We had this physical resource, we just had to figure out how to staff it and get people there. And we did."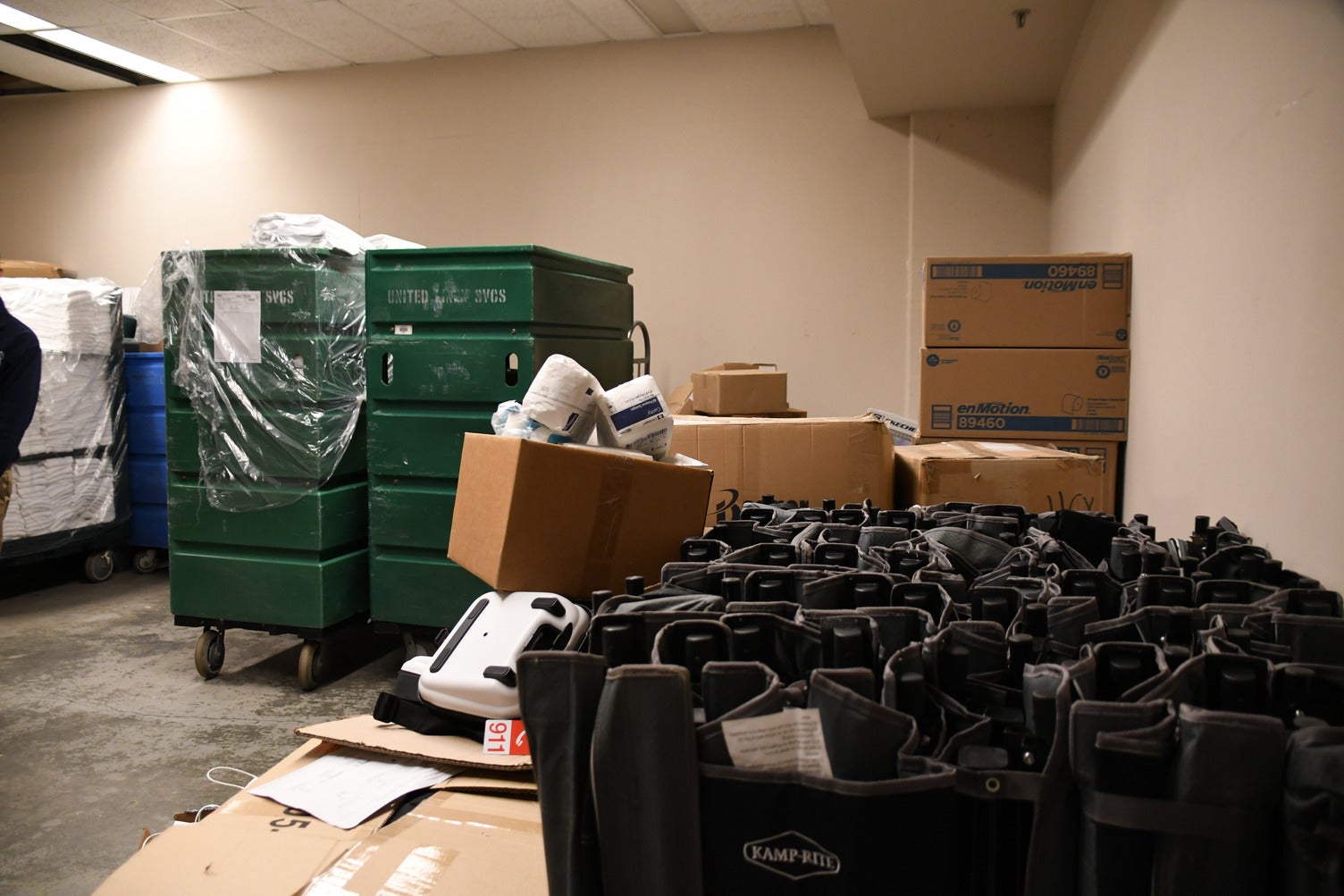 Given the green light, facility managers, physicians, nurses, cleaning staff, and countless volunteers sprang into action. The shelter community partnered with the clinical staff to map out needed services: IV and medical equipment, wireless internet, televisions, beds, chairs, tables, and other furniture. The floor had to be fully stocked with food, drinks, basic medical supplies, clothing for guests, and personal protective equipment for staff.
"It's a facility that was shut down and largely unutilized for a year and a half," says Rob Koenig, the senior director of strategy and operations at BMC, noting the extraordinary effort and coordination that occurred to stand up the operation when time was of the essence. "It's quite amazing that it's ready, safe, and comfortable for guests."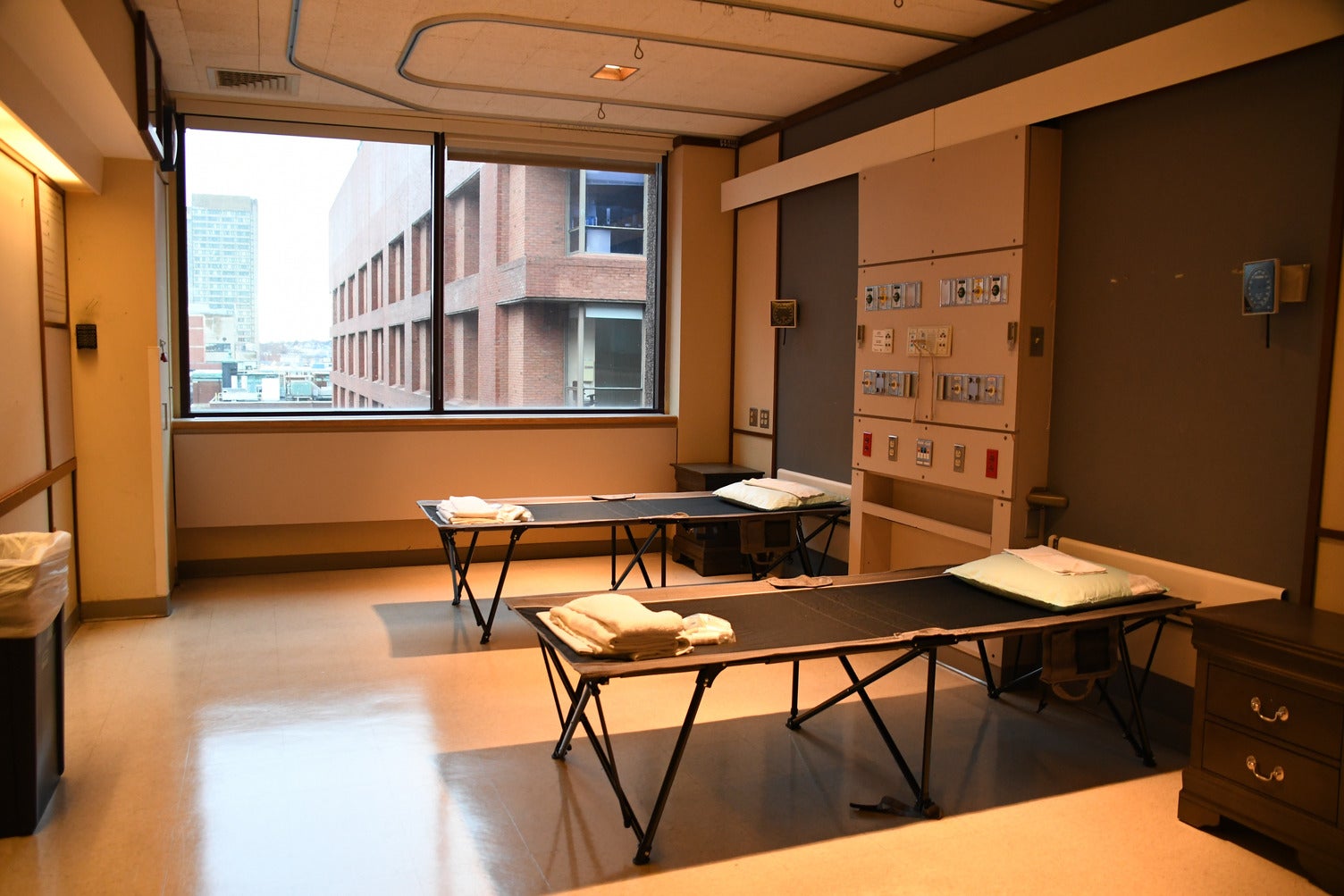 Every facet of BMC joined in the effort, including philanthropy, which received a flood of donations: Wayfair and Jofran donated 250 nightstands, chairs, coffee tables, recliners and dining sets. Ocean State Job Lot donated tens of thousands of clothing items. BJ's donated TVs and accessories. The Gap donated 10,000 pairs of underwear. Microsoft donated 50 tables. Sony gave TVs and video games. Many others chipped in with essential items, labor, and financial donations.
A key concern was ensuring the new respite facility met infectious disease standards and that protocols were in place to minimize the risk of spreading infection. Creating isolation areas, secure areas for garbage and waste, and clearly delineating "clean" and "dirty" zones are important transmission control measures for any care center, but especially so for a COVID-19 facility.
"Our infectious disease physicians were consulting on how we could keep 'clean' corridors versus 'dirty' corridors, like when you're going in and out of the ORs, to have a flow of patients and make it safe for staff," says Sarah Carignan Arbelaez, vice president of clinical services at Boston Medical Center.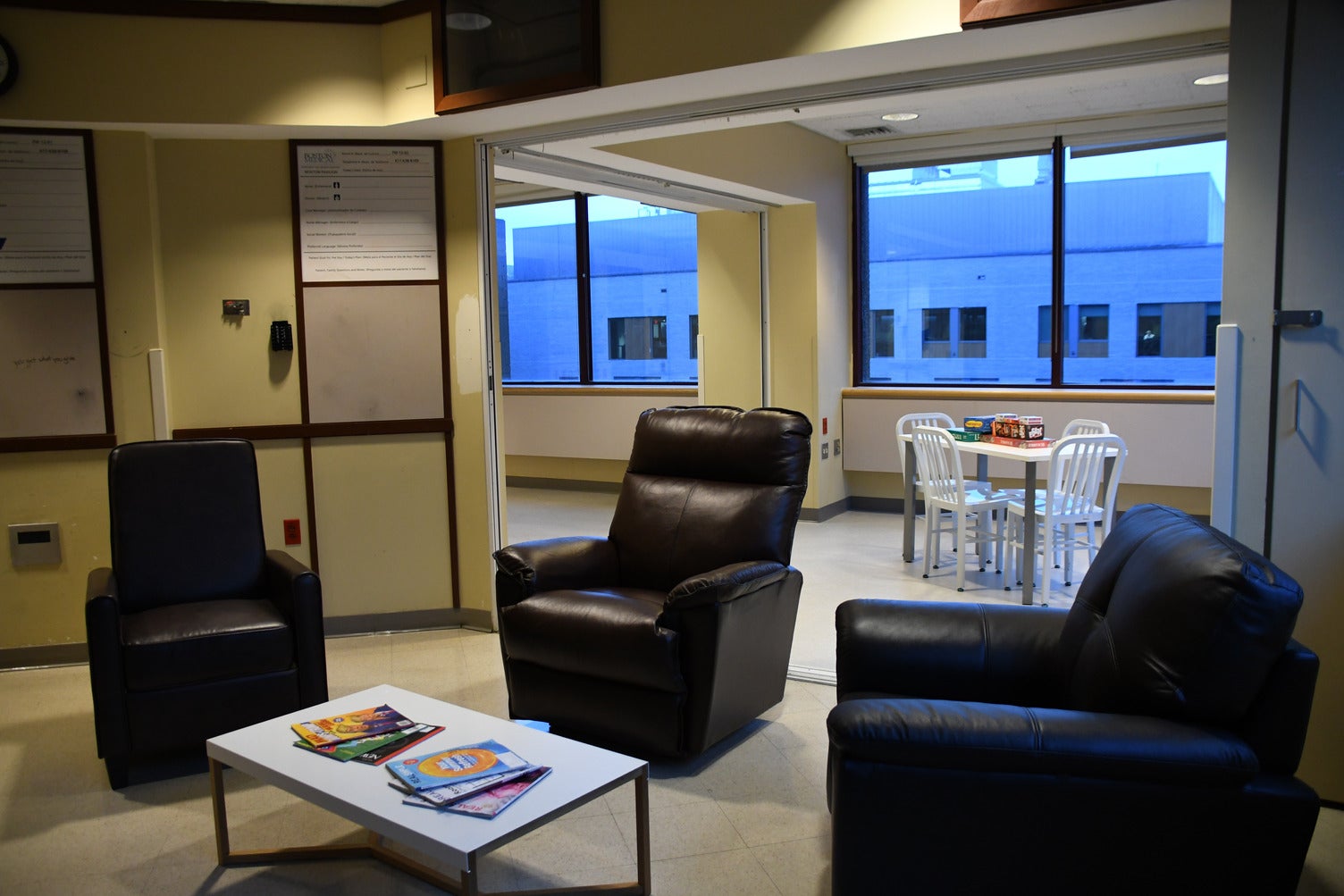 The layout was carefully planned with the population in mind to minimize risk for patients and staff.
"One of our infectious disease doctors, Dr. Josh Barocas, and one of our physicians who specializes in substance use disorder, Dr. Miriam Komaromy, came up with a care plan, all the flow," says Walsh. "It's quite a sophisticated operation."
The first patients started arriving as soon as the doors opened on Thursday, mere hours after BMC got the keys to the building. Some were unexpected, displaced by flooding at the makeshift hospital for the homeless at the Boston Convention and Exhibition Center in South Boston, but staff were able to adapt quickly.
Staff and volunteers at the Pavilion are from a range of disciplines, including pediatrics, behavioral health, dermatology, and other departments. Everyone attended orientation training on reducing stigma, naloxone for overdose emergencies, and behavioral health needs for understanding the shelter population. It was a truly thoughtful response that could have easily been lost in something that was happening so quickly, says Arbelaez: "We were counting in hours, not days."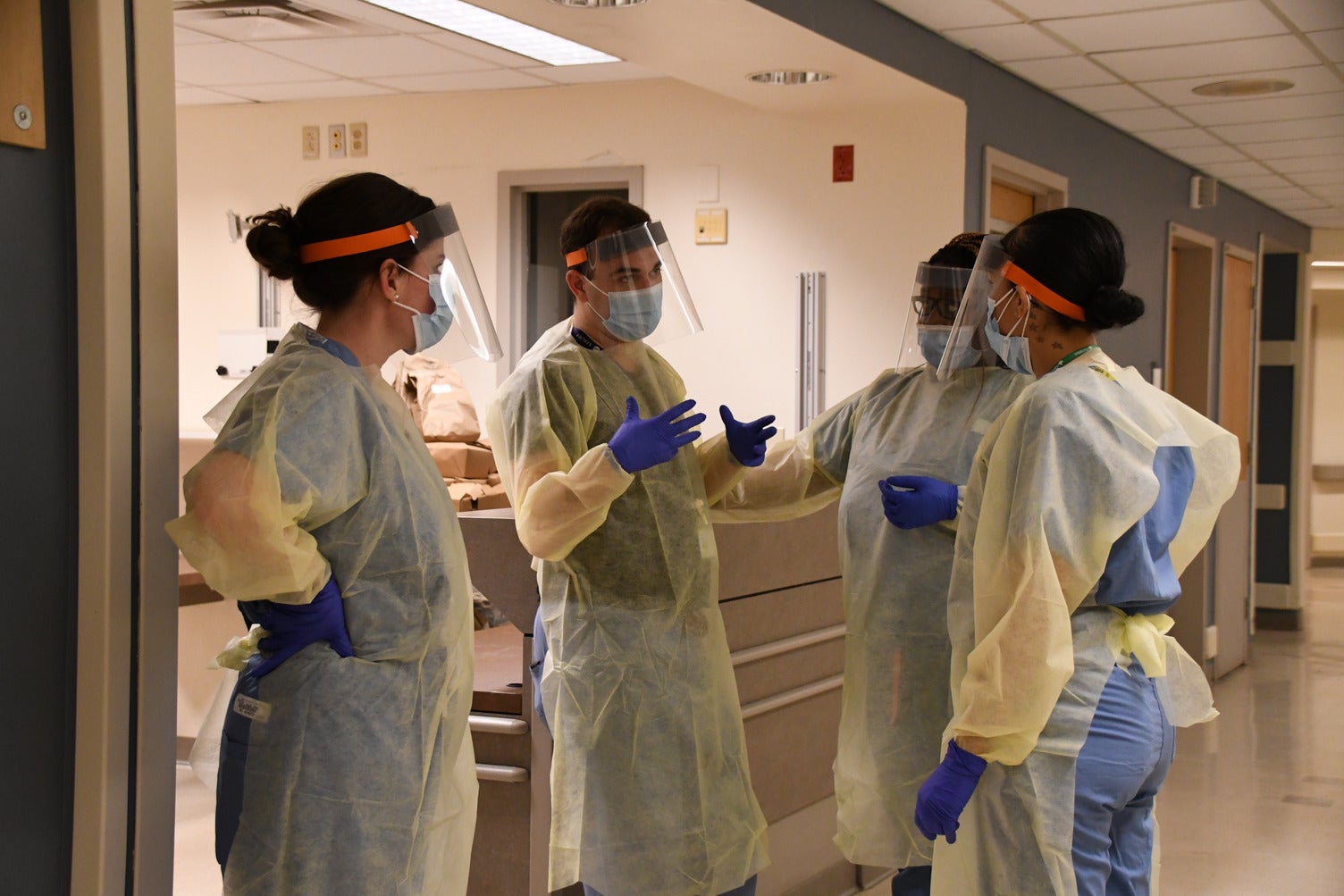 "Our volunteers certainly feel challenged and vulnerable, tired, but they also feel a great sense of purpose in being part of the solution in a very important project," Arbelaez says. "COVID-19 has the potential to really rip through the homeless community in a devastating way — and so to be part of the help, nobody thought twice."
The facility was staffed for 63 guests by the weekend, and staff are preparing for many more. The facility is adapting as the surge develops and needs fluctuate and change. Getting it open is just the beginning, says Koenig, who explains the team will continue to learn and refine and serve as long as they have people to serve.
"Medically speaking, if we can create an opportunity for people who are otherwise unable to observe public health measures like social distancing and hand washing, then that's what we should do. We're a healthcare provider," says Walsh.