Food Access and Education Take Root in Hospital Farms
Onsite farming provides ripe opportunity to improve food access and engage patients in better nutrition, benefiting outcomes and healthcare spending.
At a time when healthcare's focus is shifting to patients' social determinants of health, hospitals throughout the country are making changes to way they think about delivering health, from the ground up.
Click to view more in this interactive map.
Over the past decade, hospital-supported farms have been cropping up across the country to provide for communities within the hospital and beyond. Whether patients have trouble accessing enough healthy food or don't understand what food is appropriate for their individual health needs, a hospital farm provides the perfect backdrop for addressing unmet needs.
At Boston Medical Center, for example, which serves a patient population with high levels of poverty, chronic illness, and food insecurity, a rooftop farm feeds into the hospital cafeteria, a food pantry that allows patients to fill prescriptions for food, and a teaching kitchen in which patients and community members learn how to prepare nutritious, condition-specific meals.
An added bonus? Preventive services like these can help reduce healthcare costs and improve patient and employee experience, hospitals say. Here are other hospitals and healthcare systems that have built farms and gardens on their campuses to address the health of the communities they serve.
Rooftop Farm at Boston Medical Center (Boston, MA)
Opened: 2017
Location: Powerplant rooftop
Goal: Reduce the hospital's carbon footprint, increase green space, and reduce energy use
The brainchild of Dave Maffeo, senior director of support services, and Robert Biggio, senior vice president of facilities and support services, the 2,658-square-foot rooftop farm was built in five months and now has 25 crop varieties and two beehives, housing more than 100,000 bees that produce honey and pollinate 75% of the food on the farm.
The farm is part of the hospital's Nourishing Our Community initiative aimed at providing healthy food options. Under the direction of the hospitals' resident farmer, Lindsay Allen, it provides enough food to serve 1,800 meals daily, including food sold at the hospital cafeteria, inpatient meals, teaching kitchen demonstrations, and prescriptions for patients facing food insecurity. The farm also hosts summer camps, helps reduce the hospitals' carbon footprint, and benefits employee wellness.
Teaching Garden at Seattle Children's Hospital (Seattle, Washington)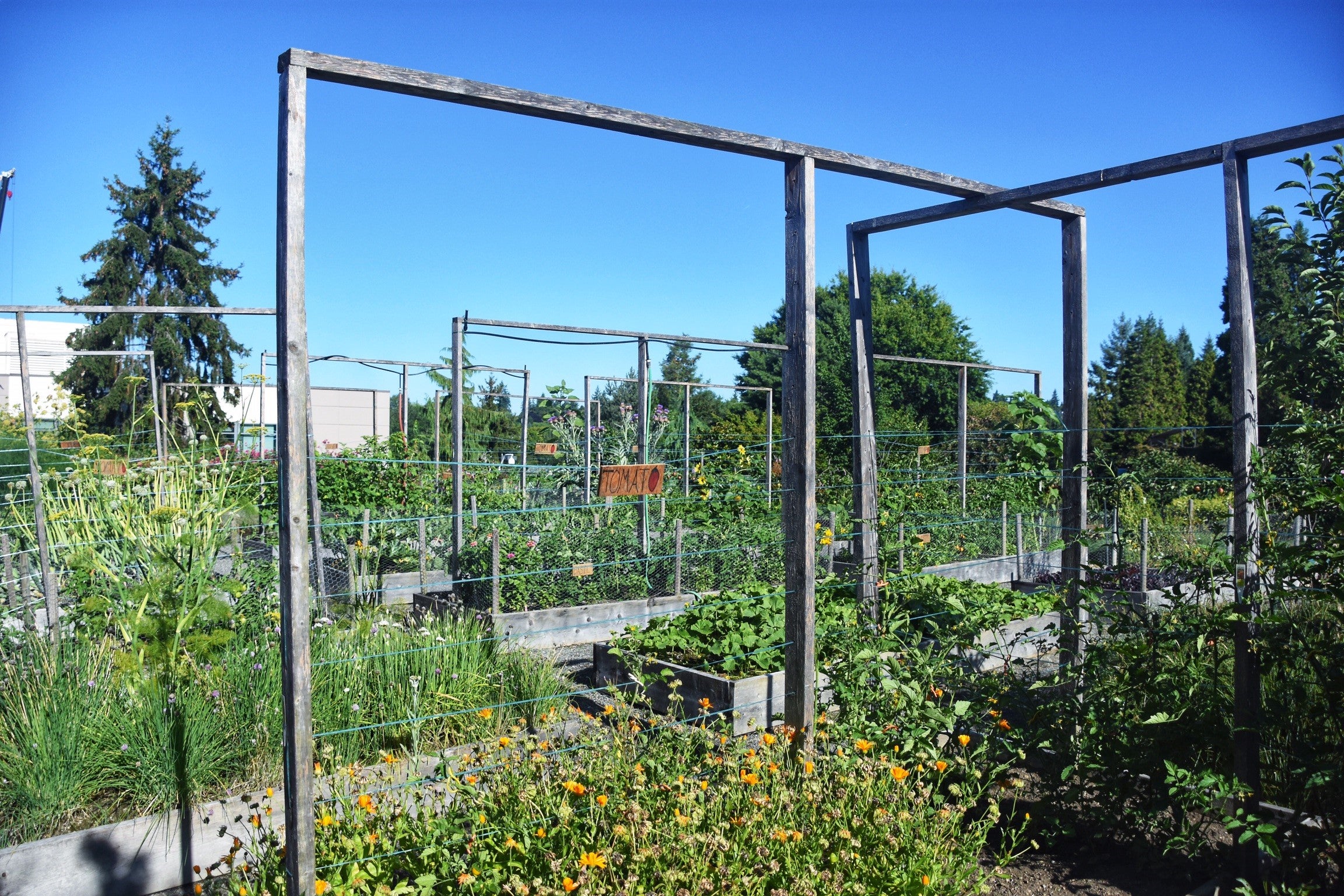 Photo courtesy of Seattle Children's Hospital
Opened: 2013
Location: Hospital grounds
Goal: Nutrition education
Strapped for space but determined to provide for its patients, Seattle Children's Hospital has moved its teaching garden several times since its founding, from a former helipad space to its current location in what used to be a plant storage area. The team, led by the grounds department, is made up of nutritionists, a gardener, and volunteers that help teach patients about the value of healthy eating.
"The value from a project like this one is so much greater than numbers can convey, from the way we empower people to go out and create their own gardens to how we help to encourage good nutrition," says Kyle Juhnke, Seattle Children's groundskeeper.
Deaver Wellness Farm at Lankenau Medical Center (Wynnewood, Pennsylvania)
Photo courtesy of Lankenau Medical Center
Opened: Earth Day 2016
Goal: Strengthen the health of the community
Location: Hospital grounds
Lankenau Medical Center is located between two counties that have some of the lowest and highest health outcomes in the state. This juxtaposition has led to a strong commitment to food equity and access for the hospital's diverse patient population, which motivated the construction of the Deaver Wellness Farm in 2016.
Sky Farm at Eskenazi Health (Indianapolis, IN)
Photo courtesy of Eskanazi Health
Opened: 2013
Harvest: 3,000 pounds
Location: Hospital rooftop
A sign of prioritized wellness and prevention at Eskanazi Health, the hospital's rooftop farm opened simultaneously with the new campus in 2013. It now distributes approximately 3,000 pounds of produce to the community through programming such as nutrition and cooking classes and Fresh Veggie Friday, during which employees, patients, and visitors can drop in for produce during the summer season.
Rodale Institute Organic Farm at St. Luke's University Health Network (Easton, Pennsylvania)
Photo courtesy of St. Luke's University Health Network
Opened: 2014
Goal: Nutrition education
Size: 11.5 acres
St. Luke's University Health Network partnered with the Rodale Institute, whose expertise in organic farming and training established the farm in just three months after breaking ground, allowing it to see a full season in its first year. The farm, located on the hospital's Anderson campus, provides thousands of pounds of produce, distributing to all seven St. Luke's campuses in the region. Since its implementation in 2014, the farm has prioritized education, its core mission being to change the St. Luke's community's eating habits and relationships with food.
Healthy Roots Garden at Children's Hospital Colorado (Aurora, CO)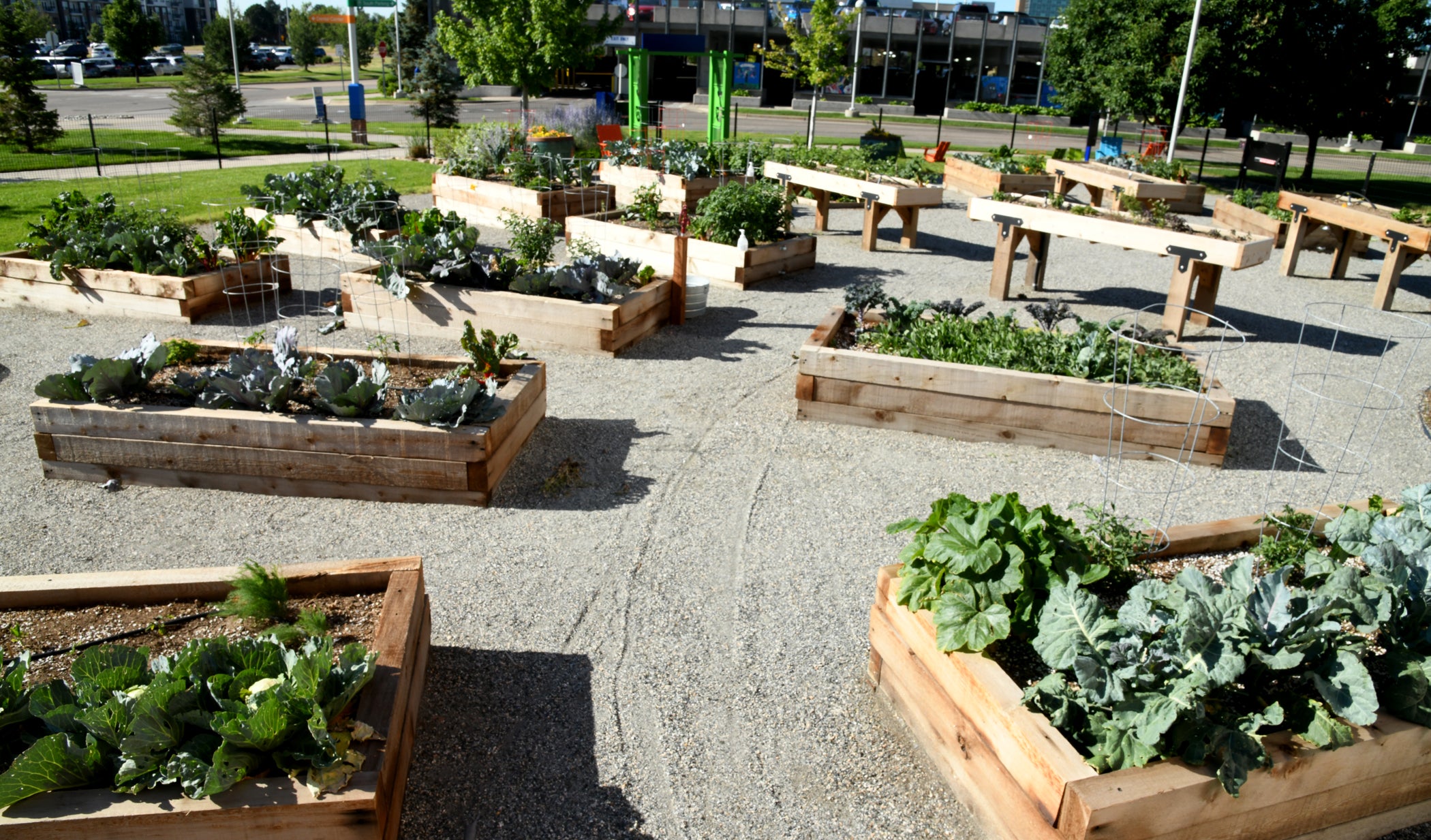 Photo courtesy of Children's Hospital Colorado
Opened: 2018
Goal: Increase food access and environmental and nutrition education
Size: 3,000 square feet
For Katie O'Conner, the wellness and healthy hospital manager at Children's Hospital Colorado, ensuring the longevity of the farm through proper resourcing and staffing were paramount. With full-time staff and generous funding, the hospital has been open since 2018 and is getting ready to open a food pharmacy later this year to better address its patients' needs.
The Farm at St. Joseph Mercy Ann Arbor (Ypsilanti, Michigan)
Photo courtesy of St. Joseph Mercy Ann Arbor
Opened: 2010
Goal: Address food insecurity in the community
Size: 25 acres
St. Joseph Mercy Ann Arbor was built on what was formerly three large family farms, so it only made sense when the hospital broke ground on one of the country's first hospital-based farms in 2010. Since its founding, the farm has expanded to cover 25 acres and include a handicap-accessible greenhouse, an outdoor classroom, and a soon-to-be "food hub" to address food insecurity in the community.
"It's never easy to do something unexpected, which is why it's really important for people to understand why you're doing it," says hospital farmer Amanda Sweetman. "We are not just feeding the cafeteria, we are growing a healthy community."
---
Want to see your hospital farm on the list? Email us at healthcity@bmc.org.