Treating the Whole Person After a Cancer Diagnosis
When cancer disrupts a patient's life, social workers and patient navigators provide crucial support for social needs to ensure access to care.
Getty Images
When a patient receives a cancer diagnosis, following the doctor's recommended treatment plan is critical to ensuring the best possible outcome for their situation. But for people who face mental health issues such as depression or who lack access to basic needs such as reliable transportation and food, adhering to treatment is easier said than done. 
"A diagnosis impacts the whole ecological system of a patient," says Erica Criscuolo, a clinical social worker for the Cancer Center at Boston Medical Center (BMC). Lindsey Streahle, an American Cancer Society patient navigator who works closely with Criscuolo, says factors beyond the quality of care can have a major impact on outcomes. 
"Patients often bring up transportation when talking with a provider about an initial treatment plan — 'How am I supposed to get to care when my family is working? What if I feel too sick to take the bus?'" says Streahle.
Integrating social workers and patient navigators into the care team can make a significant difference in helping people overcome such barriers and obtain the treatment they need. Rigorous studies have shown that addressing social needs, particularly through patient navigator programs, can effectively help patients access care and reduce treatment disparities.
Oncologists Criscuolo works with at the center increasingly understand the connection between cancer care outcomes and social supports, says Criscuolo, and they will refer patients to her if they detect signs of emotional distress or underlying mental health conditions. With social work and patient navigation in the mix, clinicians are seeing marked improvements in patients' ability to follow through with their care plans — a pattern that suggests a need for greater support services in cancer care.
Social supports in cancer care reduce no-shows
Criscuolo provides a range of services, including one-on-one counseling sessions throughout the duration of treatment, on-call mental health interventions, and support groups. Streahle and the other five navigators on the team connect patients to resources, such as free and low-cost transportation, lodging for intensive treatment, meal delivery, and financial assistance to help replace missed work income. If a patient doesn't show up for an appointment, a navigator will help them reschedule and address barriers to prevent them from falling out of care.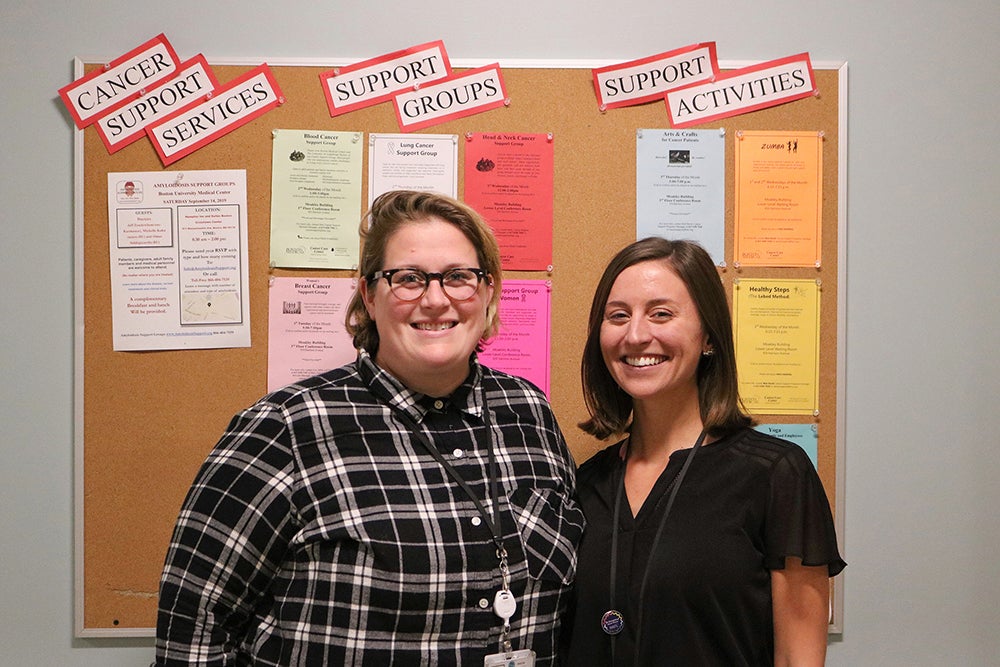 Erica Criscuolo (left), clinical social worker, and Lindsey Streahle, American Cancer Society patient navigator. (Nilagia McCoy).
Meanwhile, communication is happening at all levels to ensure coordination. For example, if a patient mentions to Criscuolo they need a ride to their chemotherapy appointment, she will inform a navigator who can coordinate the appropriate services. And all members of a patient's care team — doctors, nurses, the patient navigator, the social worker, and if needed, palliative care workers — meet together with the patient to discuss treatment and prognosis. Regular communication ensures alignment on how to support the patient's individual needs as they navigate their cancer care. 
This integrated approach pays off. In an informal analysis of missed oncology appointments within a 6-month period among several doctors, the Cancer Center found that patients without a navigator had a no-show rate of 10%. By comparison, patients who were assigned a navigator had a no-show rate of only 4.5%. 
The importance of team communication and support
The key to making these programs work for patients is regular communication among the cancer care team — not only about patient support needs but also about their own needs as they confront serious illness in their patients.
Criscuolo works with approximately 50 patients at any given time, while each navigator works with about 70 to 100 patients — and some prognoses will remain bleak, despite the best care.
"It's heavy work," says Streahle. "You have to have each other's backs."
During twice-monthly resiliency huddles, members of the care team come together to discuss difficult experiences. Allowing space to process with the team, says Criscuolo, is an important part of ensuring longevity in work that can be extremely emotional at times.
Addressing social needs on a systemic level
Even as BMC's Cancer Center makes progress in addressing barriers for individual patients, Criscuolo stresses the need for systemic and societal change. 
"We care for some of the most vulnerable, oppressed populations," she says. "We are here to be your cancer support team, but we can't individually solve bigger issues such as homelessness." 
Criscuolo encourages health systems to ensure that social workers and patient navigators — the people working on the ground — have a seat at the table when creating hospital policies, discussing social determinants of health, or designing pilot programs. 
"It's important to break down silos that often exist in the medical field. We can talk about integrating supports, but still not know what resources are there or what databases exist, or have a unified way of communicating with the community," Criscuolo says. "We try to mitigate that in this clinic, but it's a larger systemic issue that goes beyond oncology."
This article is part of a series from the Boston University Center for Innovation in Social Work & Health (CISWH) that highlights social workers working in healthcare and public health to address the nonmedical factors that impact health, known as social determinants of health. Know of a healthcare team that's doing innovative work involving social workers? Contact us — we want to hear your story.