In-House COVID-19 Testing's Massive Clinical Impact Amid PPE, Capacity, and Staffing Concerns
Rapid results from new in-house testing at Boston Medical Center has significant implications as health systems plan for dwindling resources.
David L. Ryan via Getty Images
As the healthcare tsunami that is COVID-19 first crested on the West Coast, George Murphy, PhD connected with colleagues there to find out how scientists like him could blunt the impending patient surge for frontline medical providers farther east.
Two major issues persisted: testing availability and result times. Decreasing these wait times would be crucial toward protecting staff on the frontlines and limiting shortages in capacity and personal protective equipment (PPE) such as masks, gloves, and gowns. And increasing testing availability would better inform a public health response and emergency aid.
"We're moving into an area where there's a shortage of essential PPE for everyone," says Murphy, co-director of the Center for Regenerative Medicine (CReM) of Boston University and Boston Medical Center. "So if you don't know if someone's negative or positive, you have to treat them like they're positive. That is a huge waste and potential drain on our ability to continue to supply PPE."
But healthcare institutions in the United States are facing five- to seven-day coronavirus testing turnaround from most state and commercial labs, while promised test kits from large private vendors have been slow to materialize as they get shipped off instead to overwhelmed commercial testing centers.
A well-networked researcher, Murphy cites the strain he was witnessing among peers as one of the original impetuses for undertaking the creation of in-house testing for COVID-19 for patients and staff at Boston Medical Center. Through extensive collaboration with the hospital's pathologists, a test was developed in a week and is already in use, churning out results within a day. The impact on clinical operations is expected to be enormous.
"It was a remarkable effort — just extreme effort in extreme times," says Chris Andry, PhD, chief and chair of Pathology and Laboratory Medicine at Boston Medical Center and Boston University School of Medicine, whose team worked hand in hand with the CReM to stand up the in-house test for coronavirus. "The testing will help the public health story, but it'll also help individual hospitals."
Standing up an in-house test for COVID-19
As campus-wide measures to address COVID-19 had ground the CReM's day-to-day lab work to a near-halt, Murphy and his team saw the opportunity to redeploy their resources.
"We're not a clinical lab, and I'm not a clinical lab specialist or pathologist. I'm a stem cell and molecular biologist who does basic research," says Murphy. "But what we've done is repurposed ourselves to fit into this chain where we can apply what we know as scientists and try to make a difference as far as this clinical testing is concerned. It's the point of view of, how do you make the right clinical decision because you don't have the right information? And can we help to arm clinicians with that?"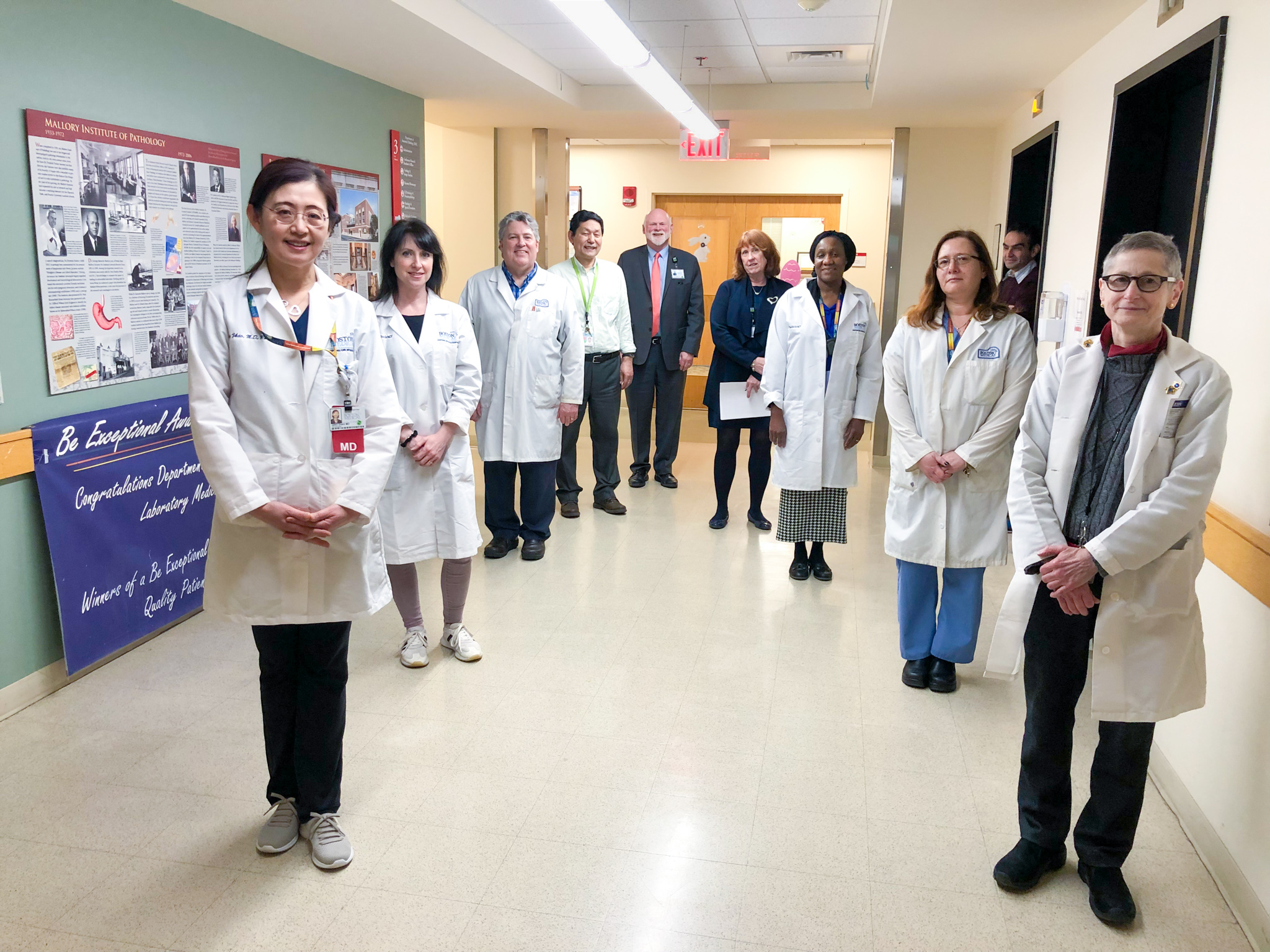 Murphy and Andry turned to other Boston-area hospitals and labs, including MGH and the Broad Institute, for consultation and collaboration, and their teams worked around the clock to develop tests and get them approved by the FDA with unprecedented rapidity. It's a process that under different circumstances would likely have taken months, but a huge team effort — combining the skill of basic research scientists and clinical laboratorians, physicians, scientists, and technical staff — turned out a validated test in just a week.
Learn more about the development of BMC's COVID-19 test on The Brink »
Urgent action was taken by the federal government, as well. The package of documents and data was sent to the FDA Sunday night, and by Monday morning, the FDA had confirmed that the tests were approved for use.
The coronavirus diagnostics to protect and conserve
The unprecedented swift action is already paying dividends as it is allowing a far more orderly and safe organization of potential and positive COVID-19 patients. The hospital can now test roughly 300 samples per day, a number that's expected to increase as pathologists and lab technicians continue to perfect the test and the speed of results.
All of it is essential for giving frontline providers the information they need to treat patients, conserve bed capacity, and make judgement calls on who should or shouldn't come in to work based on exposure.
"The clinical impact is huge," says Andry. "There are patients who have symptoms who are essentially in isolation rooms waiting for a test result, and staff are using a lot of necessary personal protective equipment — appropriately — to care for those patients." As soon as providers can get a test result that's positive, they have a treatment plan, he says. And if the test result is negative, they can step down on the use of PPE and resources to care for that patient, including N95 masks that are in short supply.
The faster you can get the test result, the quicker you can make clinical decisions that help our patients, preserve PPE, preserve rooms, and contribute to a public health initiative and understanding of what's going on in the city.
"It's all about turnaround time," he added. "The faster you can get the test result, the quicker our clinical colleagues can make clinical decisions that help our patients, preserve PPE, preserve rooms, and contribute to a public health initiative and understanding of what's going on in the city."
For the vulnerable populations served by BMC, including the homeless and people with substance use disorders, efficient and timely testing is crucial to save lives. Experts have been particularly concerned about the homeless population who live in close quarters, which has the potential to create a bloom of people exposed — something the city and partners have taken active measures to avoid. For BMC, which serves some of the poorest parts of Boston as the region's largest safety-net provider, staff must also weigh in and address complex social determinants of health while confronting the pandemic. Murphy hopes the in-house team will help relieve some of the burden.
"We're trying to prepare as best we can, in our very unique place, with a very unique patient population, to provide our amazing clinicians with the information and tools they need to make these important decisions," he says.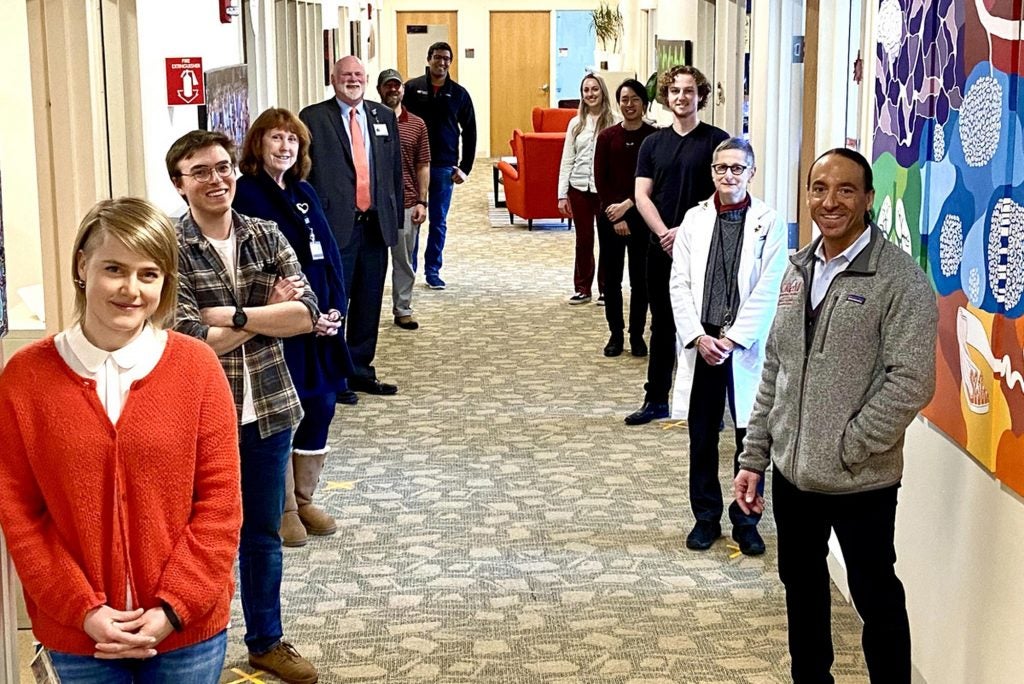 The CReM team routinely shares proprietary data and information and, in keeping with its collaborative philosophy, is posting testing protocols to share with the global medical community.
"Because of the way these things are happening, scientists are getting together," Murphy said. "They're being collaborative and collegial in sharing knowledge and know-how to come up with these solutions at the academic and individual institution level, which is really refreshing. This fits in with the CReM's open-source biology philosophy, which is to share everything – our knowledge, our insight, our protocols, our technologies — with the entire scientific community without bias or exclusivity. This is really a worldwide sharing of everything to try to solve these critical problems."