Overcoming Barriers to Behavioral Health Integration in Pediatrics Through Co-Development
The evaluation leads for TEAM UP discuss their novel approach to implementing and evaluating an initiative to transform pediatric behavioral health.
Getty Images
The sources of trauma take many shapes, running the gamut from poverty and domestic violence to wartime disaster and personal loss. It's widely acknowledged that trauma can have far-reaching health impacts, and trauma-informed approaches have become an important tool for many healthcare providers. However, a growing swell of voices is suggesting that trauma-informed care at the individual level is just the starting line in the sprint to transform outcomes. While understanding the influence of trauma is critical, providers also need to build collective strengths — being mindful not to look at communities through a deficit-based lens.
Groups targeted due to their racial, religious, or ethnic identities continue to grapple with the social, economic, and emotional fallout for generations, a concept that's known as historical trauma. Without considering the context of culture in this trauma — and its potential to heal — healthcare and community-based interventions can perpetuate a cycle of poor outcomes. Research suggesting a link between historical trauma and substance use, PTSD, and other health issues has bolstered the case for an important evolution of trauma-informed care: culturally rooted healing models.
For historically marginalized groups, affirmation of cultural identity can be a foundation for healthy people and healthy communities, says Héctor Sánchez-Flores, the executive director of the National Compadres Network (NCN) and a leading voice in the space of historical trauma and culturally-rooted healing. In his work in the Bay Area and beyond, Sánchez-Flores advocates for racial equity and healing, with a focus on reframing cultural identity as an asset rather than a barrier.
Sánchez-Flores was a keynote speaker earlier this fall at the National Community Leadership Summit, an annual event held by the Vital Village Network that convenes groups from across the country who recognize that a successful healthcare system — one that supports the whole patient — depends not only on trauma-informed healthcare, but also on an integrated, cross-disciplinary ecosystem of services that builds community capacity and resiliency.
Sánchez-Flores spoke with HealthCity after delivering his keynote address to discuss the themes of the summit, including the value of culturally rooted healing and how providers of any cultural identity can empower and affirm the communities they serve.
HealthCity: How does culturally rooted healing relate to historic trauma?
Héctor Sánchez-Flores: For generations, we've been saying to communities of color that assimilation is the goal to success. We've said it to women, too: Become more like men in order to succeed. Implicit in that message is what you have is insufficient. We now know that's a fallacy, but historically, when interventions — such as efforts to reduce teen pregnancy among Latino youth — don't come out the way we intend, we fault the community, claiming they don't "get it" or that a solution is not important to them.
Before you implement strategies in the community, you have to understand the community deeply, so that you know how these interventions operate. Historic and proximate trauma have to be part of the canon. Understanding historic racial inequities is as important as understanding epidemiology. The worst theft that people can experience is the theft of their own culture, and not understanding what it is. If we really want to solve inequities, then we're going to have to talk about some really real things that have happened over the history of the United States and beyond.
HC: Why are culturally rooted healing and community empowerment models valuable compared to a trauma-informed approach by itself?
HSF: In communities that are marginalized, there are elements you can build upon to create a healing pathway. It requires critical thinking about why things are the way they are, and the role of systems in creating current inequities. If this type of reflection is not taught in formal places, then we will always be trying to do something to a community as opposed to working and aligning ourselves with communities to build something they want — something that feeds their spirit, gives us the outcomes that we want, and sustains an initiative for much longer than we ever imagined. If a community takes ownership of their journey on this work, it will outlive funding. They will figure out how to make that happen.
HC: How does the process of culturally rooted healing begin?
HSF: When you understand an individual's trauma, one of the best things to do is a healing-centered intervention with a reflective process, so that people can begin to understand that an experience — as awful as it may be — can allow a person to grow, provided there's guidance and support. Where was my family seven generations ago? What were they doing? How were they being treated? How has that had an impact on me? Has that benefited me?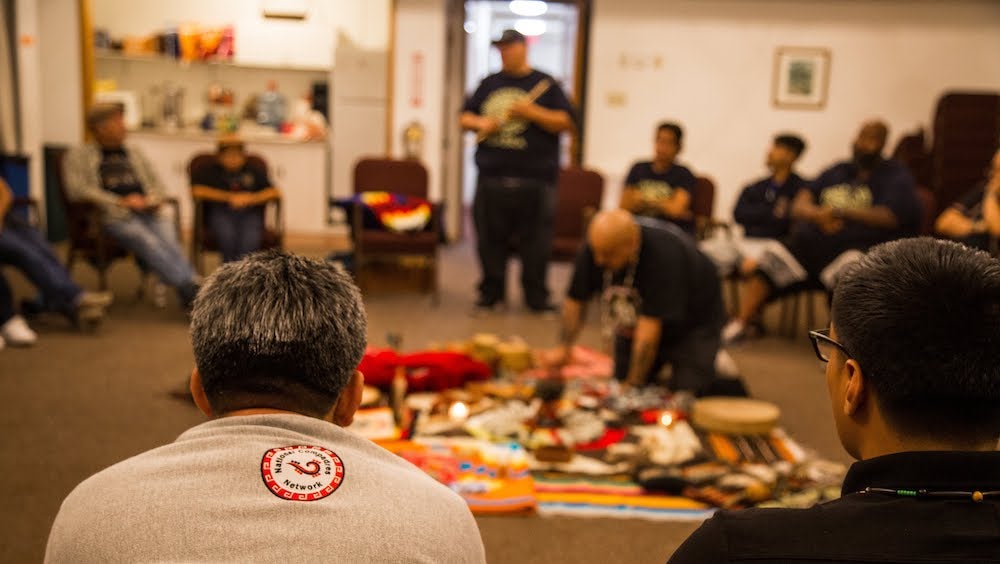 Sanchez-Flores (left, in gray) participates in NCN's Joven Noble Youth Academy Retreat, which focuses on the prevention of substance abuse, teen pregnancy, relationship violence, gang violence, and school failure. (Miguel Ozuna, National Compadres Network)
Different communities can do it in different ways that resonate with the makeup of their community. At NCN, we use more of an indigenous space model, called a Círculo. When people participate in a Círculo, they say, "I remember feeling like this sitting around the dinner table on a Sunday evening in my house." There's historic memory involved. If you're able to create those spaces where people recognize they have a role to play irrespective of what others may say, that's where healing begins to take root.
HC: How can harnessing cultural traditions complement health goals?
HSF: Connectedness can be a resource for the individual to realize that they have to, for example, take their diabetic medication because they're here for a purpose in life. Maybe you're a grandmother, and your sense of purpose is you have to be there for your granddaughters and grandsons — part of you being there means that you have to take care of your physical ailments and follow a medical routine. If we don't acknowledge the role of greater purpose, then we're only treating the physical ailment. But when we talk about that spiritual dimension, that's what really drives us: What are the deepest reasons that we do what we do?
HC: How can community-based organizations and health systems partner in this work?
HSF: Our community-based Círculos are therapeutic, but they're not therapy. When I advocate for models like this, sometimes people ask if I mean we shouldn't provide the community with mental health services. I'm not saying that — I'm saying maybe it's an "and." We can provide healing-centered services that the community owns and supports, in addition to other types of services that healthcare systems provide.
The most critical part of treating trauma is doing it in a way that people recognize as healing.
It's not a matter of just doing healing circles in the community, and that's going to make all of its problems go away. It's about creating an integrated approach so that everybody knows they can get support for varying degrees of trauma. The most critical part of treating trauma is doing it in a way that people recognize as healing for them, that helps them in the healing process. That's the best opportunity for growth.
---
This interview has been edited and condensed.